why e-scooter?
» Antalya is an ideal city to be discovered by electric scooter. Since the city is founded on a large flat land, it is extremely easy to travel around especially in Old Town, city centre, Konyaaltı Beach and parks with electric scooter.
» No need for driving license or extra insurance.
» Electric scooters are the most practical solution for environment and noise pollution.
» Electric scooters give you the feeling of riding on a flat ground all the time. Thanks to their electric motor even if you are riding up or against the wind. Riding uphill will only be a joy for you.
» Electric scooters enables you to travel around the city safely on bicycle routes far from the problem of parking or traffic jam.
» The electric motor of scooter automatically cuts off at 25 kmh and enables safe driving.
» Electric scooter can cover 20 km distance according to the conditions of the path with its fully charged battery.
» You have the opportunity to see more in a short time and never get tired while doing this.
» Once you ride electric scooter, you will understand how enjoyable it is. Let the adventure begin and join the joy ride with us.
our scooters
We use the best award winnning electric scooter, the Xiaomi M365. This scooter has a range of up to 20km and is more than enough to visit all beautiful destinations that Antalya has to offer. Our tour guide will provide you with training and show you how to use the electric scooter and it's features. The tour guides will lead you at a speed that is most comfortable.

LIGHTS
The electric scooter has powerful front and flashing rear LED lights to make you visible (which also allow us to do night tours).

SAFETY
Loud bell to alert pedestrians and cyclist.

COMFORT
Anti slip standing mat.

BRAKES
E-ABS dual braking is used to make sure that the stopping distance is below 4 meters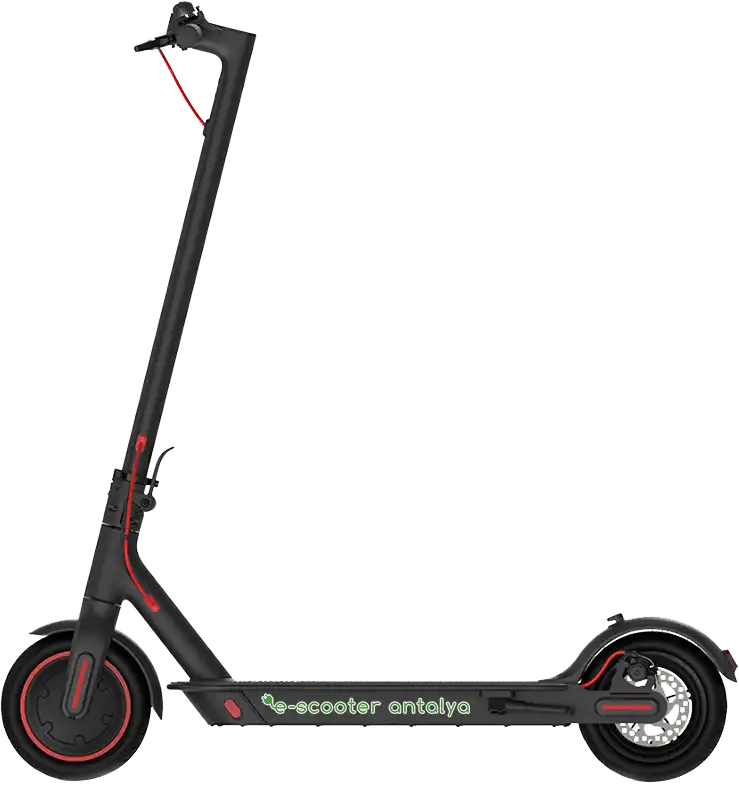 BUILD QUALITY
Aerospace-grade aluminium painted matte black and finished with our branding.

AMAZING LOOK!
You will be touring around in style with our magnificent scooter!

LIMITATIONS
Weight limit: 100 kg (220 lb)
Age limit: 12 years (under adult supervision)

RANGE & MAX SPEED
20 KM - 25KM/H